Meeting With Italian Scientists
Jun 04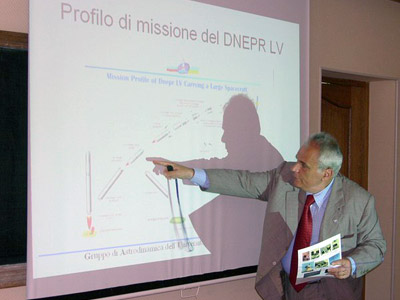 A meeting with Italian scientists from the University "La Sapienza" (Italy) was held on May 31 (as a part of the development of our nanosatellite). Filippo Graziani a Professor, engaged in the development of space technology, and his assistant came to the NTU "KPI" (TEF), and we spoke in detail about each subsystem.
For many years, Filippo has been successfully engaged in the development of satellites; under his leadership, the three satellites of the University of Rome were launched together with other foreign spacecraft by the RS-20 rocket as a part of the "Dnepr" program (the "Unisat" series).
Guests communicated only in English, so I also presented a subsystem (data processing subsystem) in English. Scientists were quite friendly; his assistant asked most of the questions; Filippo listened attentively and occasionally commented on what was happening.
The university of Rome has already a number of projects in collaboration with universities in other countries. For example, our colleagues from Russia, led by Professor Ovchinnikov, participated in the development of the Unisat-3 satellite, which was launched from the Baikonur Cosmodrome on the 28th of June 2004. Russian students and teachers developed a system of magnetic orientation.
Now the Italians are interested in Ukrainian developments, and it cannot but please 🙂